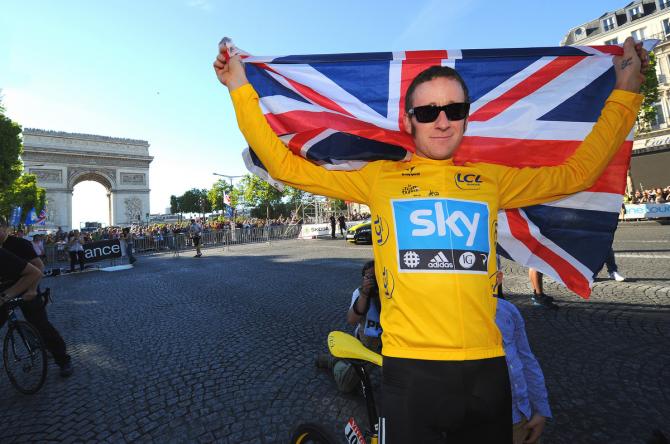 (Reuters) – Tour de France winner Bradley Wiggins has defended himself against accusations he and Team Sky used permitted medication for performance gain and said he was the victim of a malicious smear.
The five-times Olympic gold medalist told the BBC in an interview on Monday, following the publication of a British parliamentary committee report on doping in sport, that he had not cheated.
The Digital, Culture, Media and Sport (DCMS) select committee report said the team had crossed an "ethical line" by using for performance enhancement drugs that are allowed for medical purposes.
"Not at any time in my career did we cross the ethical line," said Wiggins, who in 2012 became the first Briton to win the Tour de France.
The 37-year-old, who retired from professional cycling in December 2016, said he was the subject of a 'witch hunt', complained that his children were suffering at school as a result.
"The widespread effect on the family is horrific," he said. "I don't know how I'm going to pick the pieces up with the kids…I wouldn't wish it on anyone."
Wiggins was granted a therapeutic use exemption (TUE) to take the corticosteroid Triamcinolone, which helps asthma sufferers, before the 2011 and 2012 Tours and 2013 Giro d'Italia.
The report said Wiggins may have been treated with Triamcinolone on up to nine occasions, in and out of competition, over a four-year period.
"It would be hard to know what possible medical need could have required such a seemingly excessive use of this drug," it added.
Wiggins said he did not know where that allegation had come from.
"I really would like to know," he added. "This is an anonymous source, an anonymous person that has said this.
"I refute that 100 percent. This is malicious, this is someone trying to smear me. I haven't worked and had the passion I've had for this sport for 15-20 years… to do that to the sport, it's just absurd."
Wiggins said the allegations were the worst thing to be accused off and the hardest to prove that you have not done, because "we're not dealing in a legal system. I'd have had more rights if I'd murdered someone in this process.
"These allegations have never been put to me before until now, I've only found out today what I'm actually being accused of," he added.
Wiggins said an infamous 'jiffy bag' controversy had also been a 'shambles'.
British Cycling and Team Sky Doctor Richard Freeman received a package on behalf of Bradley Wiggins at the 2011 Criterium du Dauphine race in France, the contents of which have remained a source of speculation despite Sky saying it was a 'flu treatment.
The report was unable to say for sure what was in the package but found no "reliable evidence" to support Sky's assertion that it was a legal decongestant, Fluimucil.
"I didn't even know there was a package until I was asked about it. It has become such a mess — it is ludicrous," said Wiggins.