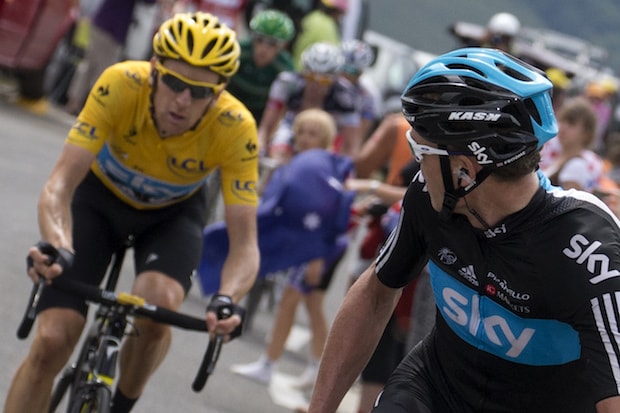 Bradley Wiggins believes Chris Froome showed how to "undermine" Wada's anti-doping rules and says they are no longer fit for purpose.
Froome was last week cleared of wrongdoing after a test during last year's Vuelta a Espana found high levels of the asthma drug Salbutamol in his system.
The case should have remained confidential throughout as an anti-doping charge was never brought, but details were leaked late last year.
"We have to respect that he's allowed to race, and within a safe environment. There's all kinds of abuse at the moment and no athlete should have to ride in those conditions and have their safety questioned at the sport's biggest event", Wiggins said on The Bradley Wiggins Show.
"Without the leak we wouldn't even know about it, but that's the nature of sport now. Had it not been Chris Froome there wouldn't have been a leak. I think someone saw an opportunity, one of the big organisations maybe did it to get one over on someone else, and it's overshadowed the sport all year."
Asked whether WADA's rules are fit for purpose, he replied: "Apparently not. Apparently it hasn't been for a while, there's so many people coming out and giving their opinions and it's really difficult to get to the roots of what the actual facts are. The only thing I can really understand from it was that Chris didn't even go to the adverse analytical finding, it didn't even get to that stage.
"He has the financial resource. There was criticism of this, but if he's innocent or he believes his innocent, he's going to throw everything can at it to clear his name and he has every right to do that. The Team have trusted and backed him as they knew he hadn't done anything wrong … He's now set a precedent, so if the same salbutamol issue comes up with someone else in the Tour de France, he's shown he can undermine the test."