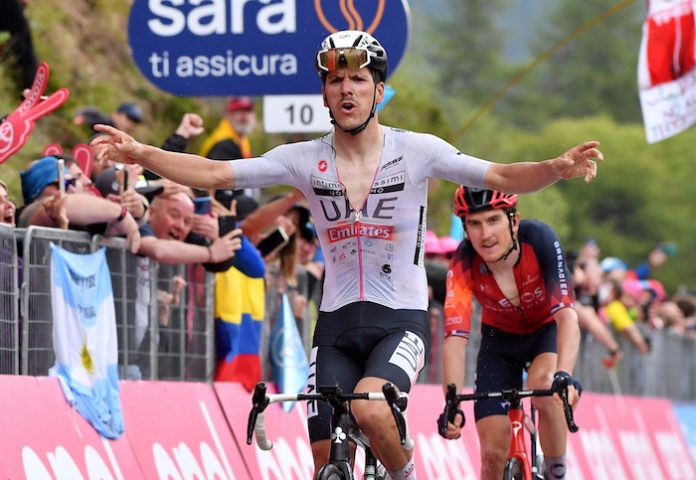 Geraint Thomas boosted his bid to become the Giro d'Italia's oldest winner by moving back into the leader's pink jersey on Tuesday as the race exploded into life at the start of a dramatic and decisive final week in the Dolomites.
Joao Almeida won the tough 16th stage atop Monte Bondone for his first victory in a Grand Tour. The Portuguese cyclist crossed the summit finish just ahead of Thomas, who also picked up valuable bonus seconds. Primoz Roglic was third 25 seconds further behind.
The result saw Thomas move back into the lead, 18 seconds ahead of Almeida and 29 in front of Roglic.
"Yeah it would have been nice to win the stage, but it was one of them where I had to keep riding, didn't want to play cat and mouse with João with Roglič behind," said Thomas.
"So we worked well together … and unfortunately he had the jump on me and won the sprint. But it's nice to be back in pink and to gain some time."
Thomas turns 37 on Thursday, three days before the race ends in Rome. The oldest Giro winner is Fiorenzo Magni, who was 34 when he won in 1955.
Tuesday marked the beginning of a brutal final week. It was one of three of the last six stages that have been given the maximum difficulty rating of five stars.
There was more than 5,000 meters of elevation and five categorized climbs along the 203-kilometer route from Sabbio Chiese, including the top-category climb to the finish. And it was on that climb to Monte Bondone that the race sparked into life.
Almeida attacked with less than seven kilometers remaining and Thomas made his move shortly after, bridging across to set up the battle for the stage win.
Almeida has worn the maglia rosa before but never won a stage in the three previous times he has competed in the Giro.
"I'm super happy, it's a dream come true, after four years I was always so close and so far at the same time," Almeida said. "Finally I got it so yeah I'm super, super happy, I don't have words to describe it.
"It was a super hard day, always up and down, for the legs it was super hard, I would say the hardest so far," he continued. "I was feeling good and I took the risk to go for it. If you don't try you never know. I tried and I achieved it."
Wednesday's 17th stage offers a brief respite as the 195-kilometer (121-mile) route from Pergine Valsugana to Caorle starts with a gradual descent before a long, flat finish which is likely to end in a bunch sprint.