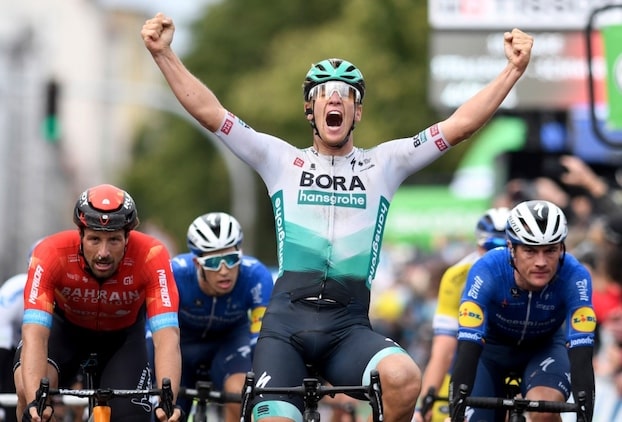 Pascal Ackermann took the lead of the Tour of Germany after his victory on Thursday in the first stage, 191.4 km long between Stralsund and Schwerin.
Ackermann beat two riders from Bahrain Victorious, his compatriot Phil Bauhaus and the Austrian Marco Haller, at the end of this stage with a flat profile, with only one climb on the menu.
"I already said I am in good shape", said Ackermann. "After my illness two weeks ago, I had a good training block and the break actually helped me to get really fresh which helped today. We tried already in some crosswind parts to split the bunch, but all came back together. A smaller group would have been in our favor as we also got plans with Nils in the GC."
"Anyway, it came down to a sprint and the boys did a stellar job. Rudi carried all the speed through the last corner, I had to go early then but it was tailwind and I had mounted a big chain ring today so I knew it could work out. I felt the other guys coming close, but nobody took real advantage from my slipstream and then I knew I got it. I had the legs several times this year, but it never worked out. To get this win today means a lot, especially as this race on home soil is very important for our team."
On Friday, the riders continue towards the south of the country, with a stage of 185.8 km between Sangerhaussen and Ilmenau. The Tour of Germany ends on Sunday with a hilly stage.
Was für ein Finale! Herzlichen Glückwunsch @Ackes171
zum Sieg in Schwerin gegen starke Ausreißer, die es fast geschafft hätten, den Sprinterteams ein Schnippchen zu schlagen. pic.twitter.com/CzcxUieDJr

— Deutschland Tour (@DeineTour) August 26, 2021