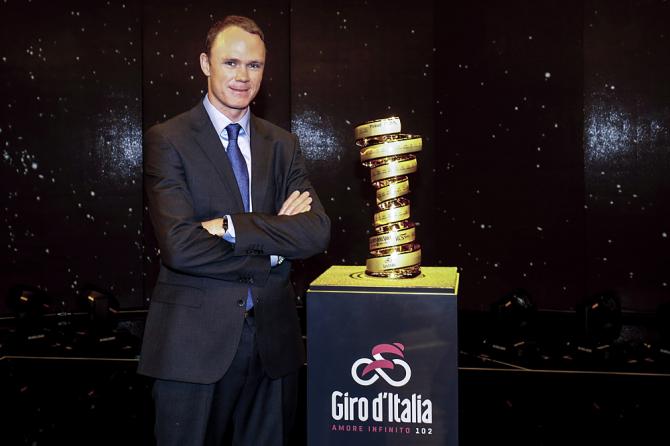 (Reuters) – Giro d'Italia champion Chris Froome said he is still undecided about riding in next year's edition but added that the start of the 102nd route looked explosive.
The Team Sky rider became the first Briton to win the Giro, and was briefly the first cyclist in 35 years to hold all three Grand Tours at the same time.
He relinquished that when he finished behind team mate Geraint Thomas in the 2018 Tour de France and then did not race in the Vuelta a Espana which was won by compatriot Simon Yates, who had led most of the Giro before Froome's win.
Froome was one of the main guests at the 2019 Giro route presentation in Milan on Wednesday.
However, he was unsure about whether he would be on the start line in Bologna on May 11 where a short and sharp 8.2km time trial kicks off the race.
"I still don't know. It's a decision that we'll have to take with the team," Froome said. "With a hard start like that it's going to be very explosive, very interesting."
After the time trial, stage two takes the riders from Bologna to Fucecchio. The riders will then head to the west coast from Vinci to Orbetello, before twisting through the shallow inclines of central Italy.
Elia Viviani, who won the points classification in this year's race, predicted a fast opening week in 2019.
"A sprinter who arrives in good shape could get a good haul of stage wins from that first week," he said.
There will also be another individual time trial on stage nine over an ever-rising 34.7km from Riccione to San Marino.
Riders get a respite on stage 10's flat 147km route from Ravenna to Modena, with the next day starting from Carpi.
After stage 12, riders will move towards the Alps and will tackle gradients of 14 and 15 percent, circling around the foot of Mont Blanc. At 237km stage 15 will be the longest from Ivrea to Como and the following day the peloton climb up to 2,618m above sea level.
The race winner will probably be decided on one of the three Dolomite climbs on stage 20, before the final stage in Verona, a 15.6km time trial. The winner will be crowned inside the city's Roman amphitheatre.
Team Sky will have a decision to make on who they send to the 3,518km event in Italy with Welshman Thomas considering returning to the race which he crashed out of in 2017.
"The Giro really excites me. It feels like unfinished business," Thomas said recently.
The presentation follows last week's unveiling of the 2019 Tour de France route in Paris.
Giro d'Italia 2019 route: stage by stage
Stage 1: Saturday 11th May, Bologna – Bologna, 8.2km (ITT)
Stage 2: Sunday 12th May, Bologna – Fucecchio, 200km
Stage 3: Monday 13th May, Vinci – Orbetello, 219km
Stage 4: Tuesday 14th May, Orbetello – Frascati, 228km
Stage 5: Wednesday 15th May, Frascati – Terracina, 140km
Stage 6: Thursday 16th May, Cassino – San Giovanni Rotondo, 233km
Stage 7: Friday 17th May, Vasto – L'Aquila, 180km
Stage 8: Saturday 18th May, Tortoreto Lido – Pesaro, 235km
Stage 9: Sunday 19th May, Riccone – San Marino 34.7km (ITT)
Rest day: Monday 20th May
Stage 10: Tuesday 21st May, Ravenna – Modena, 147km
Stage 11: Wednesday 22nd May, Carpi – Novi Ligure, 206km
Stage 12: Thursday 23rd May, Cuneo – Pinerolo, 146km
Stage 13: Friday 24th May, Pinerolo – Colle del Nivolet, 188km
Stage 14: Saturday 25th May, Saint-Vincent – Courmayeur, 131km
Stage 15: Sunday 26th May, Ivrea – Como, 237km
Rest day: Monday 27th May
Stage 16: Tuesday 28th May, Lovere – Ponte di Legno, 226km
Stage 17: Wednesday 29th May, Commezzadura – Anterselva Antholz, 180km
Stage 18: Thursday 30th May, Valdaora – Santa Maria di Sala, 220km
Stage 19: Friday 31st May, Treviso – San Martino di Castrozza, 151km
Stage 20: Saturday 1st June, Feltre – Croce d'Aune, 193km
Stage 21: Sunday 2nd June, Verona – Verona, 15.6km (ITT)