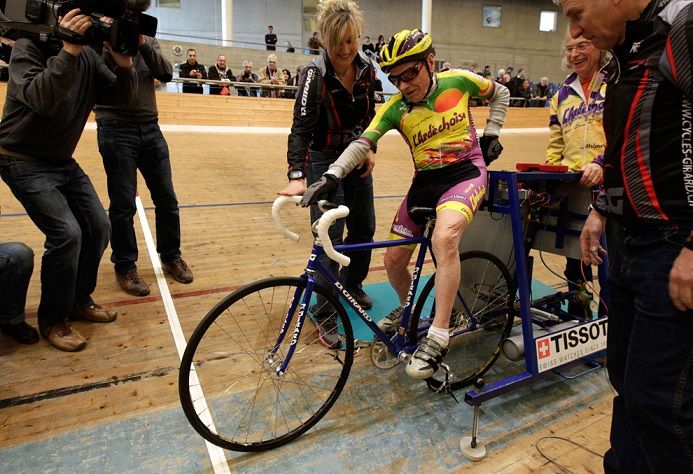 (AFP) – A centenarian French cyclist whose exploits garnered fans worldwide is retiring, ready for more leisurely rides after racing into the record books, his friends told AFP.
But Robert Marchand, 106, is still eating up kilometres on the stationary bike at his modest studio apartment northeast of Paris.
Last January, Marchand pedalled for 22.547 kilometres (14.01 miles) in an hour at the national velodrome in Saint-Quentin-en-Yvelines west of Paris.
It was a new record for his age group — though the category had to be created specially for him, and he had no competition.
"His doctors don't want him to make these huge efforts any more," his neighbour Christian Bouchard said, confirming a report in the local newspaper La Marne.
In 2014, he had managed 26.927km in one hour, the record for racers over 100.
And as recently as last August, Marchand claimed the world road racing championship in the over-105 category, though again nobody was challenging him.
Going for yet another record "would mean lots of pressure, lots of demands," said Alain Gautheron, president of the Cyclos Myrtriens club in Mitry-Mory, where Marchand is the eminent cardholder.
"If he pedals, he should be doing it to relax, purely for the pleasure," he added.
Fireman, sugarcane planter, wine merchant, vegetable farmer: Marchand, born on November 26, 1911, in the northern French city of Amiens, worked in a variety of fields over a life that spanned the two World Wars.
The former national gymnastics champion and boxer also found time to backpack around Venezuela and Canada.
He has chalked up his outstanding physical form to plenty of exercise, "loads of fruit and vegetables", not too much coffee, no cigarettes and "very little alcohol".