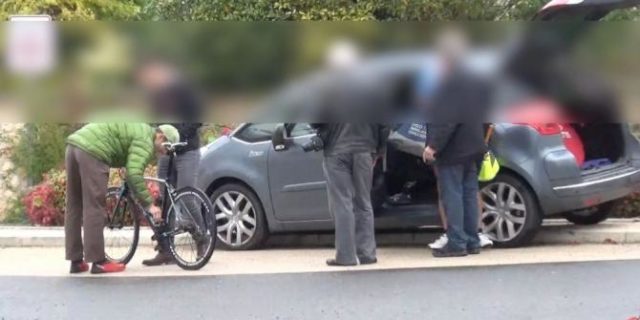 An amateur rider was caught using a motor hidden on his bike at a small French race over the weekend, the first case of mechanical doping in the country.
The 43-year-old man, whose impressive climbing abilities in a previous race had raised doubts, admitted to cheating. Reports from French media suggest that the bike was taken away for examination in this clip shown on French TV.
Premier contrôle d'un vélo équipé d'un moteur lors d'une course locale en France ! #cyclisme #twittcyclos pic.twitter.com/9U4ezQYhFp

— Tout Le Sport (@TLSfrance3tv) October 1, 2017
The 43-year-old rider was in the break with Mathys Fédrigo when he noticed former pro Christophe Bassons and other officials watching him. When he punctured during the race, the amateur rider returned to his car and drove off.
Bassons managed to get the suspect to stop, and the two men were joined by two judicial officials from Périgueux. The motor found was a 250-watt Vivax.
"Unfortunately, the outcome of this operation confirms what we feared about the possible use of this type of fraud in the amateur world," French cycling president Michel Callot said in a statement. "It is a real insult to our sport, and to all the competitors carrying out their activity in all honesty."