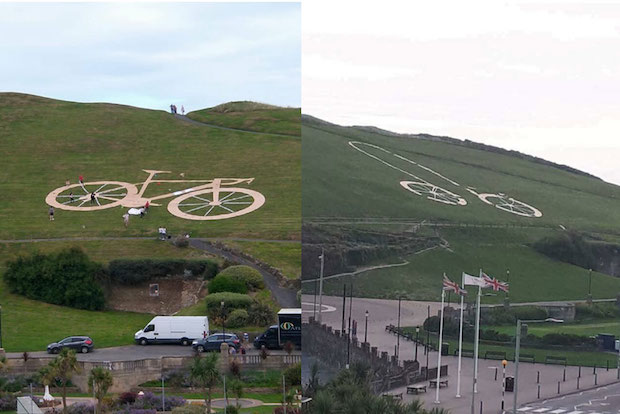 Vandals transformed artwork depicting a bicycle created to celebrate the Tour of Britain into a massive penis.
The piece, made out of white cardboard, was erected to celebrate the Tour of Britain on a hillside in north Devon. The cycling event attracted thousands of spectators to the region on Monday.
Creating massive bikes to liven up TV footage and stir some excitement amongst crowds has long been a part of cycling races.
The team behind the project managed to see the funny side. Project co-ordinator Seth Conway said: "Ilfracombe had a rude awakening this morning. Some people obviously thought it would be fun to rearrange the spokes and the wheels."
He added: "It's created quite a bit of a buzz and it's shone a bit more attention on to what the bike was there for."
The original design was put in place to highlight the work of Plastic Free North Devon and to promote the district's efforts to be environmentally friendly.
"The bike was designed to highlight the great work of the Plastic Free North Devon organisation in helping to clean our beaches and encourage people to cut out single use plastic as much as possible", Seth Conway said.
"It was going to have been taken down today anyway but someone got there first. They've shown some creativity but it'll be the bike that's remembered."