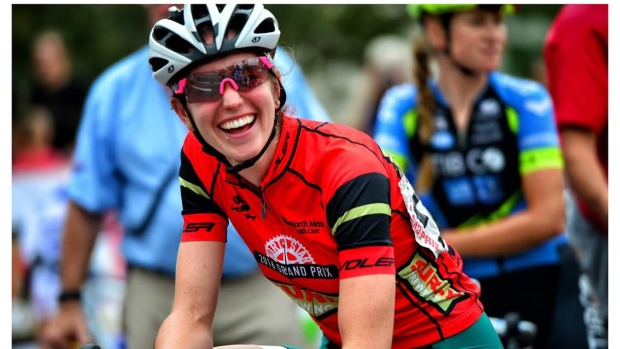 The family of Canadian professional cyclist Ellen Watters says the 28-year-old has died after being hit by a car while training outside Sussex, New Brunswick.
The Watters family posted a statement on Facebook on Wednesday saying the cyclist did not have any brain function when doctors examined her on Tuesday.
Royal Canadian Mounted Police Sgt. Jim MacPherson says Watters' bike and the car were travelling in the same direction on a rural road when the collision occurred on Friday. Police say they have spoken to the driver. No charges have yet been laid.
Watters won gold at the Tour of Somerville race in New Jersey earlier this year and bronze at the Canadian Road Championships.
Her roommate and fellow cyclist Emily Flynn said Watters was a happy, enthusiastic person with an unflagging passion for the sport. She was a member of the Ottawa racing program called the Cyclery.  Many in the Canadian cycling community have expressed their condolences on social media.
"Most recently, there was a video that I posted of her on the side of the road after a ride," said Flynn. "She threw some snow up in the air with her enthusiastic laugh and smile. She was so excited we had some snow. Her lust for life is something that I will always remember and hold onto.
"She was always very modest. She was always doing something and planning for the next thing."
Watters was also an advocate for better laws to protect cyclists on the roads, according to Flynn.