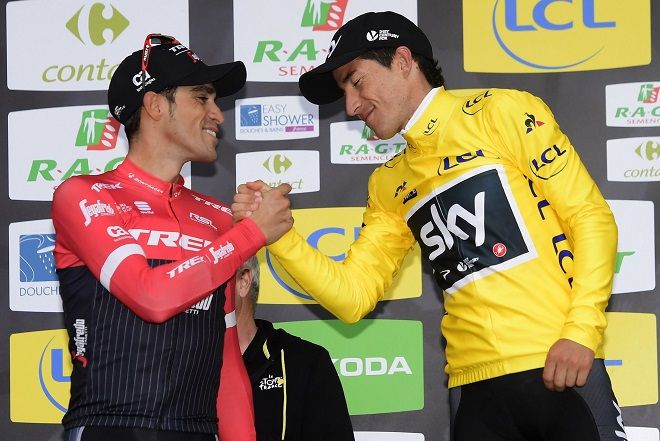 Alberto Contador gave a classic 'never-say-die' performance for stage eight at Paris-Nice, attacking on the penultimate climb and riding his heart out in the final 50 kilometers only to fall short of the overall victory by two seconds. 
Race leader Sergio Henao (Sky), who was behind Contador by a minute at the top of the last climb, gradually clawed his way back in the 15-kilometer run-in. When the dust settled and the tally taken, Contador was two seconds shy of claiming his third Paris-Nice title. The closest margin in the history of the prestigious WorldTour race.
"Yeah, I gave everything," said Contador. "And my team gave everything today, they were incredible. On the one hand, I am very happy because everyone knew I would attack when (Jarlinson) Pantano was pulling hard, and I had to be strong. It's difficult to go alone because every rider is looking to me to do the work. But on the other hand, it is hard to lose by two seconds again and another second position."
"Pantano for me is incredible," said Contador. "He not only a teammate but also a very good friend, and when you enjoy each other's company off the bike after you go more faster on the road. We are very motivated to work together, and he will be for me crucial in the Tour de France. With him, I can play with different options. I am very happy that he is with me in the team and I can only say to him: thanks, thanks, and thanks!"
"De la Cruz worked hard, Soler did not help much, but that is normal; each rider has his own interests," explained Contador about the last kilometers. "I am very happy for De la Cruz, and I say thanks to him giving me help in the false flat.
"Of course, if I don't lose the time the first stage the tactics are very different. For example, yesterday I could have been concentrated for the stage win and not the GC. But okay, sometimes you are in the front, sometimes you are not, and then each day you must look at your position [in GC] and try to be more in front when you finish the stage. This is cycling.
"In the end, it was a good day, a beautiful day of cycling, and this is also important. Okay, I prefer a win of course, but this is the sport. Now I only think about rest and recovery before the next races."