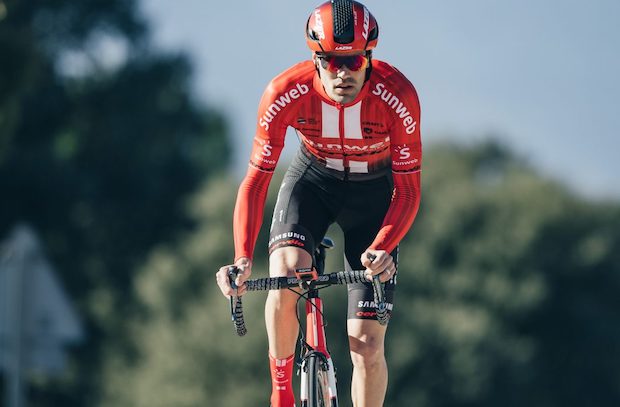 Tom Dumoulin will again race both the Giro d'Italia and the Tour de France in 2019 after coming second to Team Sky pair Chris Froome and Geraint Thomas respectively at the two races last season.
"My chance of winning the Giro this year is simply many times greater than winning the Tour," said the rider at Sunweb's presentation in Berlin. "It was already certain that we would put everything on the Tour in 2019. But after the Tour presentation, I suddenly started to think if that was a smart idea."
"The team finally made the decision, it was a difficult choice because I understand that I don't have many years to win the Tour. But 2019 is just not a good year for me to put everything on the Tour."
"There are a lot of strong riders going to the Giro with Simon Yates, Primož Roglič, Egan Bernal and Vincenzo Nibali. I will be one of the favourites in Italy," Dumoulin added.
"I'm very enthusiastic about the plan to make the Giro the main goal again, because I think that's the best Grand Tour.
Dumoulin will also start at the Tour de France after the Giro d'Italia, the race in which he finished second in 2018.
"I have realised, particularly after last year, that I really want to win the Tour once," he explained. "That is the ultimate goal and that dream has become realistic.
"I hope to ride well the Tour as well, but this was not the right year for me to put my entire focus on it."