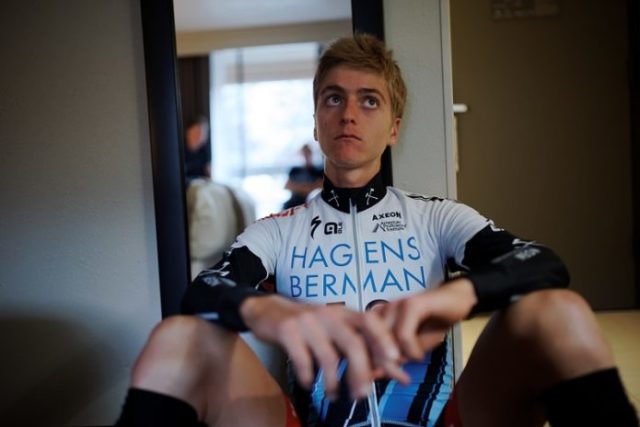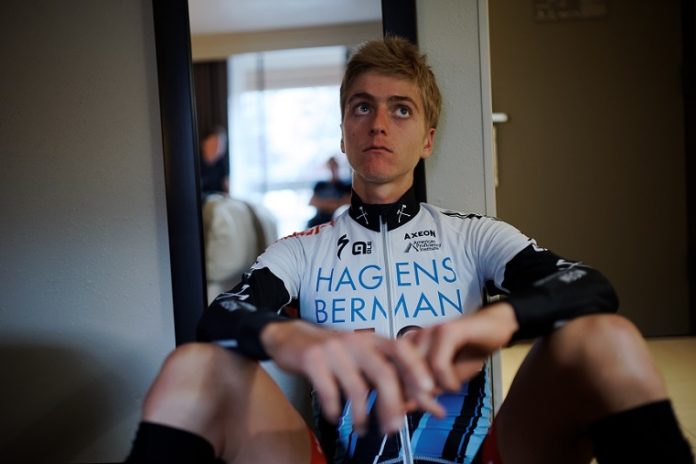 Adrien Costa is one of the most exciting young prospects in the sport. The 19-year-old achieved last year what many promising young riders would gladly take from a neo-pro season.
The Axeon Hagens Berman rider won the queen stage and the overall at the Tour de Bretagne, was third overall in Rhone-Alpes Isere Tour, and won the time trial stage at Tour de Savoie Mont Blanc, but the most notable achievement of Costa's season came at the Tour of Utah, where he was second overall.
Despite a successful 2016 season, Adrien Costa remains with his feet on the ground, as he knows he's just started the road leading towards a pro career in the years to come.
Cycling Today: Tell us about your first season at Axeon Hagens Berman and the opportunity to ride as a stagiaire with Etixx-Quick Step.
Adrien Costa: It was incredible. I don't even know where to begin. I learned so much, both on and off the bike. On the bike, the distances of the races, the difficulty of the races was so different than it was from the juniors. In the U23 races, you have to do a lot more thinking. And off the bike, you have to manage the recovery and the travel. In the junior category, you have a lot fewer races and the races are much shorter. So it was really different in the U23 category.
Being a stagiaire with Etixx-Quick Step was pretty incredible. For two or three weeks, I was eating meals with guys like Dan Martin and Tony Martin – all the big riders you see on TV. So it was nice to get to know those guys. Even though it got cut a bit short (due to a crash), I was able to take a lot away from that.
Why did you choose to stay with Axeon Hagens Berman in 2017?
It was an easy decision to come back to the team this year because I still have so much to learn. I really hesitated to do the stagiaire role last fall as a first year U23 because I didn't want to give myself that so soon. I didn't feel like I had earned it yet – the best soigneurs and all the new kit and everything that goes with being in a WorldTour program. There was no doubt another year was warranted in the U23 ranks.
Your second place at the Tour of Utah, where you raced against the big boys, was the highlight of 2016 season for you?
It was one of the highlights, yes, but I had a long year, with lots of ups and downs. The stage I won in the Tour de Bretagne was pretty surreal. I didn't feel my legs at all that day. It was unfolding like a dream. I felt I could do no wrong that day. All the decisions I made, I had one of my best days on the bike. That was definitely a defining moment. But you look back on the lows and you have to be fond of those, too, because of all the lessons you learn. After Bretagne, I had already done a lot of racing to that point. I probably got a little bit ahead of myself. I raced the next week and attacked with 80 kilometers to go and blew myself up. So I learned that you can't spread yourself too thin.
You were also seventh in the U23 Ronde van Vlaanderen so that leads us to the question: what type of rider are you right now?
I am more of a stage racer at the moment. Racing stage races means getting more race days under your belt. As far as my top 10 at the Tour of Flanders last year, lots of things aligned really well in that race last year. I was on a great day and still flying a bit under the radar at that point.
What did you do over this winter?
I came home after my stagiaire role with Etixx-Quick Step and I was pretty fried. Physically, I was starting to drag my feet and the crash didn't help. Everyone needs time to recharge their batteries at home so I definitely made sure I took the time to enjoy the outdoors and spend as much time with family. I also tried to have a bit of a normal life. I also took classes four days a week at Oregon State. I really enjoyed it and the time flew by.
What are your goals for this season?
I want to find my role as a leader and mentor. Maybe that sounds pretentious, but I want to share with the guys what I have learned and help them achieve the results they deserve. Personally, I would like to have a full race calendar and go back to a few races that I did last year and try to improve on my performance. I am also getting an apartment just outside Nice, France, in the hopes I can come back there as much as I can between races. I want to escape the cycling bubble as much as I can, to have a little bit of a normal life, so when I go to the races I can concentrate and give 110 percent.
How hard is to ride in a team with so many talented and ambitious cyclists?
For me, it is enjoyable. I feel a little bit of a responsibility coming back this year and seeing all the young riders at camp, even if they aren't younger than me, I gained a lot of experience this year that I want to pass along to them. I am starting to discover what makes this team so special. While a rider might not be on this team for more than three or four years, it is an endless cycle of talent that brings the group up and helps bring even more impressive results.
Which pro cyclists inspired you when you were growing up?
I have always been a huge fan of cycling. I remember watching the Tour de France even when I was as young as five years old. I don't come from a racing family, but my grandpa was a weekend warrior of cycling and we would always watch the Tour together on TV. I grew up in the California Bay area where there's a strong cycling community. I started on the track in San Jose. Through that, I was able to discover the road scene and what I liked. I have been super lucky that my parents let me follow my dreams. There's no pressure.
I definitely admire guys like Bernard Hinault and Greg LeMond and Miguel Indurain. I would love to learn how they became so successful and how they did it for so long and what fueled their fire. I don't think they were fueled by results because at the end of the day, results are pretty superficial.
What's your ultimate dream as a pro cyclist?
There is a lot more to life than just cycling. For me, it is keeping the big picture in mind. That's because my nature is to go 110 percent in everything I do. So being able to connect with people and spend quality time away from the sport is good. It is easy to get caught up in being so into cycling – worry about what you are eating, how much rest you are getting, things like that. But I am always trying to learn and always trying to prove myself outside of what I do on the bike.