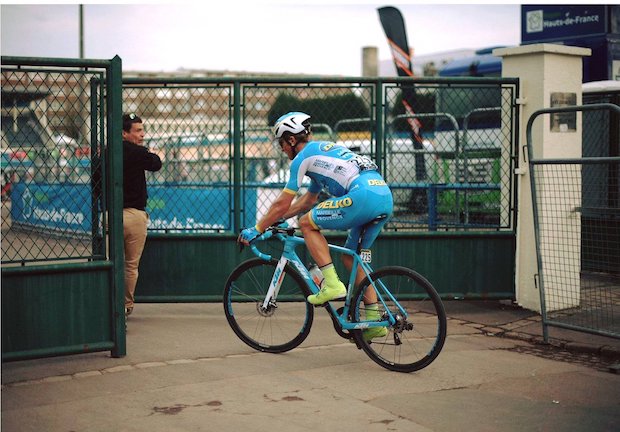 One hour after Peter Sagan had won Paris-Roubaix, Evaldas Siskevicius arrived at the Roubaix velodrome to find the gates closed.
The Delko Marseille rider hit a snag when 40km out from the finishline he came into contact with the dreaded broom wagon. Siskevicius rode in front of the minibus, carrying a cargo of a handful of muddied and bloodied abandoned riders with their bikes on a trailer behind, before he was hit by a puncture on the five-star sector of the Carrefour de l'Arbre.
"During the morning team briefing, our Directeur Sportif had motivated us to go to the limit and ride out the race," Siskevicius told Sporza. "I don't like to give up either. Neither on the bike, but also in other things in life. I also wished not to give up out of respect for the organization. Paris-Roubaix is a monument that you must honour."
Despite being well outside the time limit, the organisers opened the gates allowing the rider to cross the finishing line.
"When I came to the Vélodrome, the organisation had already started to close the gate, but they were so sympathetic to me anyway. I was able to ride my half-lap on the track."
"I was very concentrated on my ride," said Siskevicius. "At 30 kilometres from the line, I understood that the driver of the broom wagon wanted me to stop as soon as possible. But I had already cycled 230 kilometres. There were only 30 were left. At 18 kilometres from the line I was scared when I punctured at Carrefour de l'Arbre. Funnily enough there was a team car on the tow truck just behind the broom wagon. So I could take a wheel from the team car."
"It was incredible how all people encouraged me. On the cobbled sections, they shouted at me: "Go to the extreme, continue until the Vélodrome." That motivated me tremendously."
L'incroyable histoire d'Evaldas Siskevicius (@Delko_MP_KTM) sur #ParisRoubaix !

Seul devant la voiture balai. Il crève. Sa voiture de DS est sur la dépanneuse ! Il change sa roue. Termine. Vélodrome fermé. On lui ouvre les portes. Respect.

? Sporzahttps://t.co/Si7qA2BLwq pic.twitter.com/OTcjVVWJHO

— La GazetteDes Sports (@GazetteDesSport) April 10, 2018