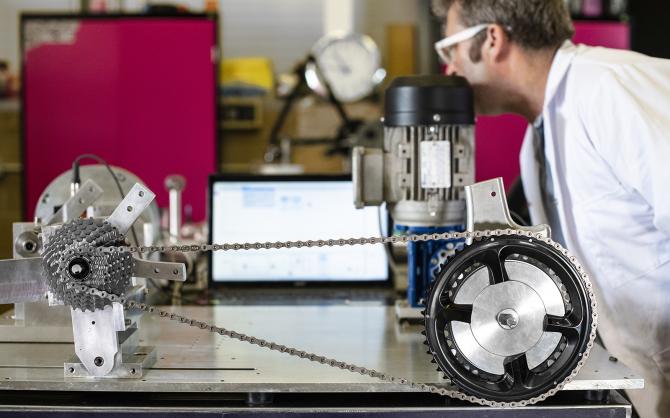 Team Ineos will use specially treated Shimano Dura-Ace R9100 chains developed by Muc-Off at the Tour de France, which have a special low friction coating to reduce friction.
Muc-Off's nanotube chain (NTC) was first developed for Bradley Wiggins' Hour Record attempt in 2015 and the original development cost was over £6000.
They claim its testing shows the NTC chain saves 10 watts against a rival coated chain from Ceramic Speed and lasts 400km per application.
Not only did Muc-Off develop a brand new lube, but it also created a special cleaning and coating process to ensure maximum efficiency, and a rig to test them on.
"What makes the NTC so special is its ability to deliver wattage savings consistently over long periods of time and in all weathers. Other chains may claim to be 'the fastest' but what they don't tell you is for how long and in what conditions," explains the company.
Muc-Off treats each chain with a proprietary nanotube formulation in a heated ultrasonic bath. This formulation includes graphene which helps to fill in the tiny gaps and rough edges in the surface of a chain at a microscopic level.
If you want to emulate Team Ineos you can buy only Muc-Off's Nanotube chain lube for €50 because Nanotube Chains are currently out of stock.