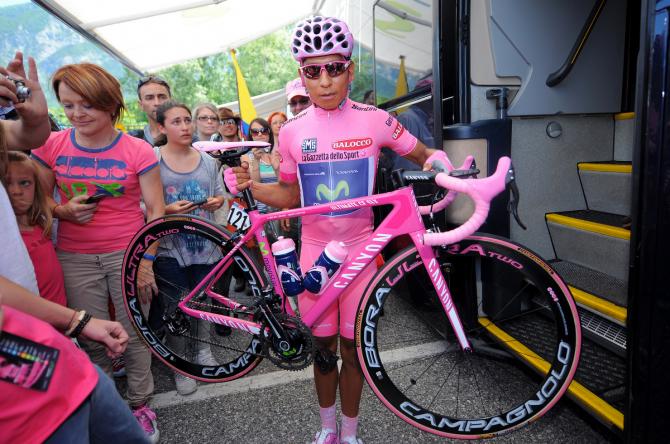 (AFP) – Nairo Quintana insisted on Thursday that he is in good shape to tackle a Tour de France-Giro d'Italia double this year.
The last rider to win both the Tour and Giro in the same year was Marco Pantani in 1998, and when two-time Tour winner Alberto Contador tried to achieve the feat two years ago, he managed only fifth in France after winning the Giro.
"We've never before tried this wager but we think we're on the right track, with a training programme adapted to arriving at both in form," said Quintana, who won the Giro in 2014 but has a best finish of second at the Tour in 2013 and 2015.
"My season so far has been really good. I've claimed two overall victories, with a stage win in each, and all of my teammates' performances as well as mine have been satisfactory. We couldn't have asked for more before the Grand Tours and we hope to continue with that streak in the Giro".
It will be the fourth time that Quintana goes for a Grand Tour double — although this is the first time he will ride the Giro and Tour in the same year — and he's been getting closer each time.
In 2014 he crashed out of the Vuelta a Espana after winning the Giro.
The next year he was second at the Tour and then fourth in the Vuelta and 12 months ago he was third at the Tour before winning the Vuelta.
"I feel this year I've got a little bit more maturity and resistence in the body. That's why I think it's the time to do it, when you're in a good physical condition."
"It was all about the Tour in previous seasons and the Vuelta was only an afterthought, we didn't base our efforts on saving energy for it. This time, though, we knew we had to aim at both of them, and the preparations have changed. It has also meant I wasn't racing the exact same courses I did in previous years – the plan was getting to Colombia earlier, rest up, train more and approach the Giro fresher. Happily, I could take advantage from my stay there and have some fresh air before those two Grand Tours."
The Giro begins in just over a week in Sardinia before finishing on May 28 in Milan.