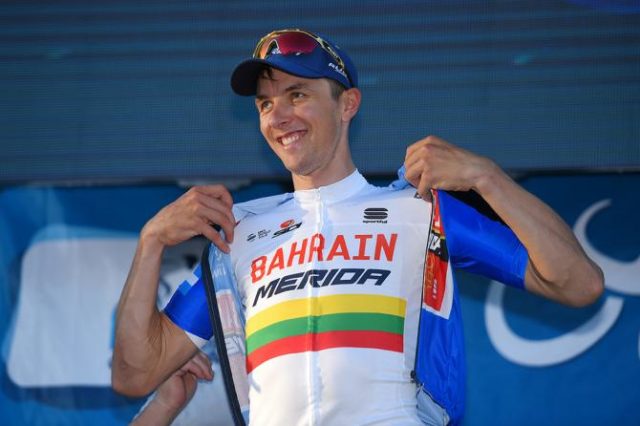 Bahrain-Merida's Ramunas Navardauskas has undergone surgery to treat a cardiac arrhythmia.
The Lituanian underwent a procedure in Deutsche Herzzentrum München in Munich, Germany, where ablation treatment was carried out to correct cardiac arrhythmia.
"The surgery went very well. The problem was localized in a sinoatrial node," said team doctor Carlo Guardascione. "He feels good, and he can leave the clinic today or tomorrow, depending on whether he completes the final medical tests.
"As post-operative care he will take anticoagulants for 6/8 weeks. During this time, he can continue training indoors, thereafter he will do further medical tests and strength tests to understand whether he is completely recovered from the cardiac arrhythmia."
The rider felt good after the surgery. "I am feeling well and recovering in the best way possible thanks to the medical staff of the Herzzentrum clinic of Munich who have been fantastic to me and I would like to thank everyone from my team, especially the medical staff for their great support and help."
General Manager Brent Copeland said the team is looking forward to Navardauskas' return. "We are very pleased that the operation has gone so well," he commented. "Now it is just a matter of a few weeks to get the outcome of the results. It has been a difficult year for Ramunas, and we at Bahrain Merida have definitely missed his presence at many races.
"Ramunas is one of the most important riders for our team roster, he is one of the hardest workers in the peloton, and we certainly look forward to his return after he recovers completely. Thanks to our teams medical staff for all the attentive details they always invest into our athletes which to us at Bahrain Merida is considered of huge importance."