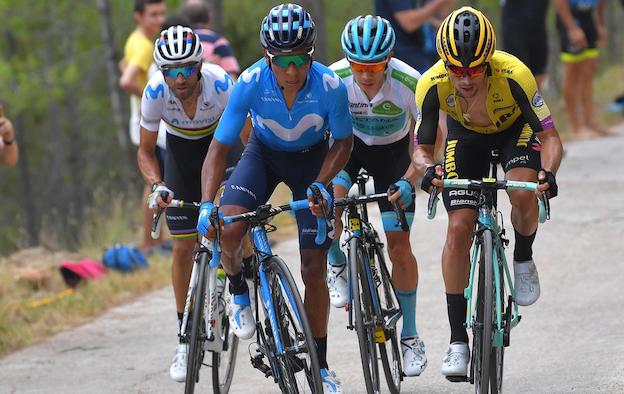 Nairo Quintana put in a series of accelerations on the lower flanks of the final climb of stage 7 at the Vuelta to help reigning world champion Alejandro Valverde to take the victory.
"I lost count of the number of attacks I did," Quintana said afterwards. "I was there to work for Alejandro, he felt good and we'd discussed the tactics. I'd also been looking to see how I really was and I felt like I was strong,"
"I wanted to attack to see what happened with my rivals and then Alejandro was there to finish it all off," Quintana said, "whenever he sees a finish line, Alejandro gets transformed."
"Alejandro is ahead of me in the overall, he's in better shape and I'm not changing what I've said, but we'll see what happens in the race,".
"Two leaders in the team?" he replied to one journalist's question. "We're not throwing in the towel. We're both strong, and if I go on feeling like I did today, we'll see what I can do. We're here to work for Alejandro."