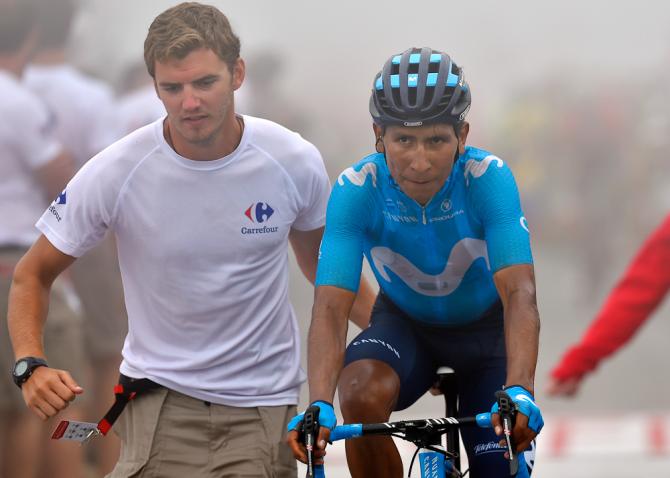 Nairo Quintana has admitted he failed to hit the heights expected of himself in 2018 after disappointing performances at the Tour de France and Vuelta a Espana.
Quintana was backed to challenge for a third grand tour victory this year after focusing his preparations on the Tour. However, the Colombian was well of the pace throughout the three weeks in France and had to settle for a top-10 finish – helped by victory on the Col de Portet on stage 17.
Quintana finished 14 minutes and 18 seconds behind eventual winner Geraint Thomas, and his fortunes did not improve in Spain.
"The fire hasn't burned out yet," Quintana said. "I am still here and I am still fighting. You'll have Nairo around for awhile yet."
"I finished the year without realizing my objectives," he admitted. "It's frustrating but I was always there fighting. It's obvious that it wasn't the year we were hoping for."
"We tried some new stuff with training, and it didn't work out," he said. "We're not entirely sure, but it's pretty clear that we messed up."
"Nairo has been so consistent over the past several years that people really took notice when he was a bit off his best this season," said Movistar boss Eusebio Unzué. "Even with Nairo not at his best he managed to win that big stage in the Pyrénées. His class doesn't disappear in a blink of an eye."
"People often say no one attacks, but when Sky is at the front at a very high level, it's very hard to make a difference," Quintana added. "When they go at their high rhythm, they know no one can attack them. It's their big advantage.
"I am an attacking rider," he continued. "Cycling today is so controlled and it's often the rider who throws the first punch ends up losing. Everyone knows they can hold a certain level. It's hard to break that control, so you need to be at the absolute best to do it."
"During tests this season, I had some of my best numbers ever in my career. I just lacked that extra spark I needed on a few key days to be able to challenge for the podium."
"It just makes me laugh. Because if you can't, you can't — it's that simple," he continued. "Why attack to help someone who just sucks the wheel their whole lives? We don't know why, but I clearly wasn't at my best."