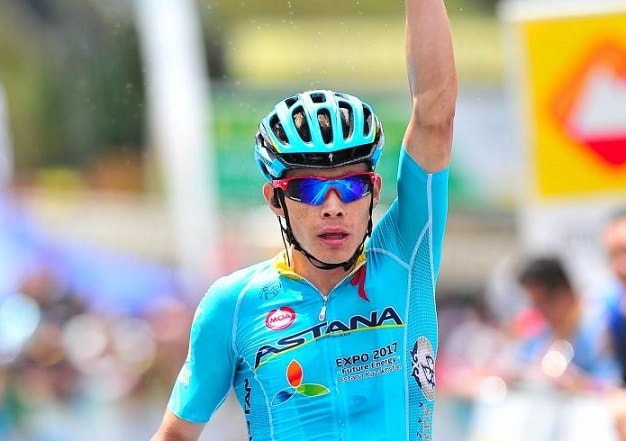 Miguel Angel Lopez has committed to a further two years with the Astana team and has been named as the squad's leader for the 2018 Giro d'Italia.
"The next three years I will spend in Astana Team and I am very happy with this fact", said Lopez.
"I've started my professional career here and during all this time I felt and still feel unbelievable support from the side of the management, sports directors, my teammates. I feel that the team trust in me and this is very important. I am happy that my future lies with Astana Pro Team, now I can focus exclusively on cycling, on the upcoming season to continue progressing on my way to the highest goals".
Miguel Angel Lopez (23) came to Astana in 2015 as a neo-pro rider. Over the last three years, despite a serious injury in the end of 2016, the Colombian won the Milano – Torino and the Tour de Suisse in 2016, took stage victories at the Tour of Austria, the Vuelta a Burgos and twice at the Vuelta a España in 2017.
"For us Miguel Angel Lopez is one of the leaders of the team even he is still very young", said general manager Alexandr Vinokurov.
"He doesn't need to prove anything to anyone – only to gain experience, to develop and to improve as a professional rider and, of course, to win. He has all he needs for that and Astana Team can provide him with the maximum support. The new agreement is just a strengthening of our relationships, so now, the rider and the team, we both can begin to build a long-term plan for our successful future".