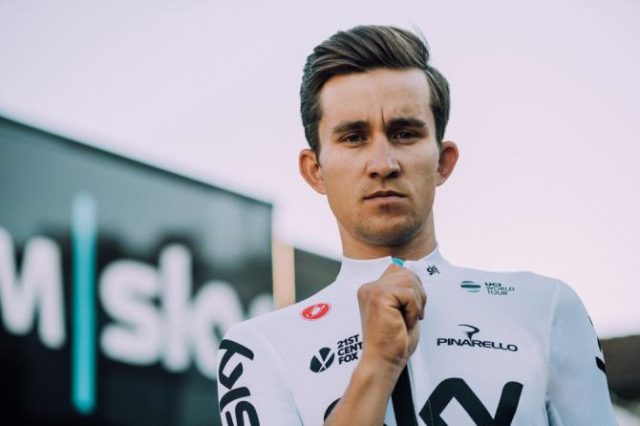 Michal Kwiatkowski is hoping to tackle the Tour of Flanders this season as he looks to continue his momentum following a standout 2017 campaign.
The Pole enjoyed arguably the best 12 months of his career with marquee victories at Strade Bianche, Milan-San Remo and Clasica San Sebastian, before heading to the Tour de France to help wingman Chris Froome to a fourth title.
"I was just missing cobbles," explained Kwiatkowski on his Flanders hopes. "The Classics for me are pure racing and Tour of Flanders is just an amazing race. I was able to race there before, and also for Team Sky in 2016. The week before that I won (E3) Harelbeke and I was one of the favourites for the win. I believe I have the ability to fight for the victory. Whatever happens there, together with my teammates, whoever is going to be there, we are able to be there as favourites and future winners. That's why I want to be a part of it. Let's hope it's going to be a good one."
"Looking at the upcoming season the first thing I'm thinking about is improvements. That word describes everything. Of course it can be difficult to repeat the results I got in 2017, but of course I will be there to train harder, to race better and to race smarter. Let's hope that will bring even more victories than I had.
"If you look at my race calendar for sure that's going to be quite similar to the previous season. Of course in the first part I'd love to aim to win Liege-Bastogne-Liege – a race I still haven't been able to win in my career. That's going to be the first big goal. On top of that races like Strade Bianche and Milan-San Remo again. That's the first part of the year, and then there's the Tour and I'd love to be back racing with Team Sky for the victory."
With the World Championships taking place on hilly Austrian soil in 2018, the 2014 rainbow jersey winner is also eyeing up another big change – taking the road to Innsbruck-Tirol via the Vuelta a Espana. Laying out some potential hopes for later in the season he added: "I think a big change would be if I could put a second Grand Tour in a single season. So after the Tour if everything goes well let's hope I can race the Vuelta and then prepare as best as I can for the World Champs in Austria."