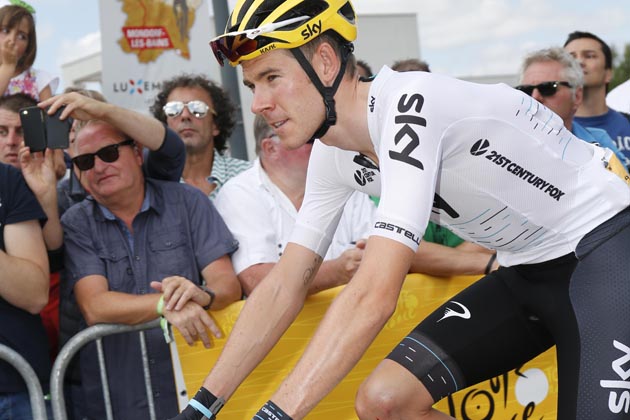 Team Sky's Luke Rowe is not putting a timetable on a racing comeback after returning to training four months after suffering 25 fractures in his right leg in a freak accident.
Although he's back in the mix and 'loving' it, Rowe is still taking it day-by-day, despite his impressive recovery thus far.
"So far it's been fairly plain sailing," explained Rowe. "Every date or goal I've been given I've managed to beat, so that results in me being back on the bike way ahead of schedule."
"Being out here with all the lads, getting back to it – I love it. I'm obviously not training as hard as them or doing the same hours they are, but doing a bit of what they're doing and being a part of the whole scene here is sweet. It makes you feel a bit more like a piece of the puzzle, as opposed to a piece of furniture.
"I never thought I'd be back on a bike this soon. Maybe I feel like a bike rider again, but not a bike racer! I haven't got full strength in my leg yet and I'm pretty unfit to say the least, as expected. My main priority now is training on my bike rather than in the gym."
"Some guys are in to it, some guys aren't, and I wasn't prior to the accident," he continued. "But it helps you work on your weaknesses; my core and back were slightly weak, but now I've had time to flip that on its head. Hopefully that will help me long term – that's a big piece of the puzzle.
"But if I could get back to where I was before I'd be happy – anything else is just a bonus. It's all about getting back to that level, which seems like a blooming long way away at the moment! But things move quickly, and when you get back on the bike and back doing the things you love, it should start to move pretty quick. It's about trying to be consistent day in, day out."