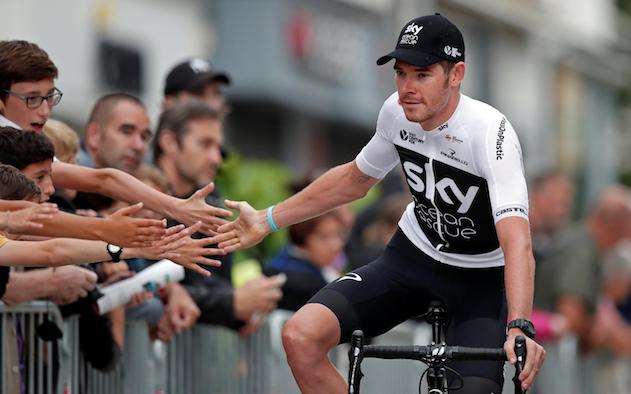 Luke Rowe snatched away a fan's banner protesting against the team's participation in the Tour de France prior to the start of stage five in Lorient.
Local resident Didier Bregardes was standing by the team buses at the start with an A4-sized sign which simply read 'Sky – Go Home'.
"The rider came over quickly, grabbed my placard and threw it down", Bregardes said.
"I've nothing against Froome or the riders, but it's the way the manager of Sky, Brailsford, dealt with it," Bregardes said. "I agree with what Lappartient said yesterday. It's insulting what Brailsford said about him, about him being a small mayor of a small town."
When asked what he did with the sign, Rowe said, "It was laminated, so I put in the recycling bin, which is where I think it belongs."
"He had a sign that said 'Sky – Go Home' and then when I went to sign on I rode past him, he was kind of laughing about it, I was laughing about it, he's stood next to his son in a Team Sky jersey, and I grabbed it off him," Rowe said.
"It wasn't meant to be malicious or anything. I don't think he was too bothered. After we went back and gave the kids a bottle each. It was a light-hearted bit of fun, it was no big deal really."
Rowe said he did not apologise to the man when he went back with the bottles.
"I don't think I have to be sorry for anything, do I?" he said. "It was no big deal, just a bit of banter."