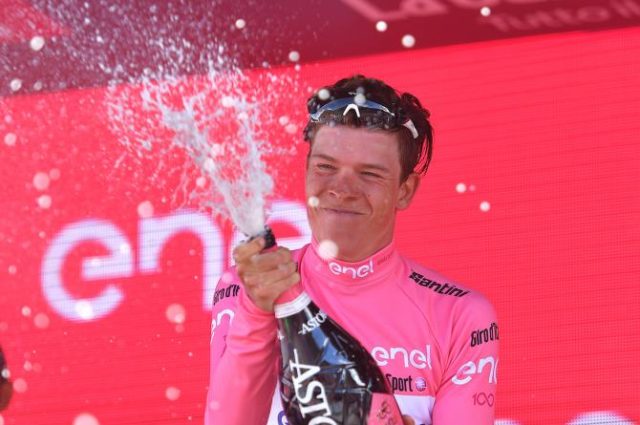 Jan Polanc (UAE Team Emirates) – stage winner
"I am elated and so happy" said the 25-year old UAE Team Emirates' rider. "Today's stage was very demanding and the climb was challenging, especially after having been in the front of the peloton for most of the stage. Towards the end I was exhausted however was determined to give it everything I had. I would like to thank the team, management and sponsors for their unwavering support. I underwent altitude training on Mount Etna back in March and April and it feels nice to be back here with a victory. I will proudly wear the Maglia Azzura and hope I can retain it for the remainder of the Giro. After 2015, to repeat the victory on the first mountain stage, it's incredible for me – I'm really happy."
Bob Jungels (Quick-Step Floors) – race leader
"Something like this is always a dream. To really believe it happened… it is something you have to be a little bit lucky. I think the team did a fantastic job. At the end I was just hanging on until the final. I was waiting, waiting, waiting. It was perfect in the end.
"I think Sunday is a very hard stage to Blockhaus – it's a little different climb from today, it's more steep and for the riders like Quintana – the real climbers. I don't know, we'll see and then we have a rest day and a long time trial. I think we are in a good way."
Ilnur Zakarin (Katusha-Alpecin)
"It was a good day for me. It was really hard on the final climb to Mt. Etna because we had a strong headwind so there were not many attacks. In the end I tried to go away to get back some seconds from my competition. Unfortunately we may be losing two riders for the race due to crashes".
Nairo Quintana (Movistar)
"We got safely through those opening three days, full of stress, and today was a completely different story. Our goal in this first mountain-top finish was remaining close to the main contenders, not to lose any time. The lack of racing days really has an effect on me at this point of the race – I'm yet to reach the fitness level of my main rivals. It was the first serious contact with big mountains since I got back from Colombia, and also a day to see where I stood in the Giro fight. These opening stages and what's left before the Blockhaus on Sunday will surely be good for my good to continue to improve; I think I should be better at the next mountain stage.
"Our controlling work during the final climb was good, especially when Andrey went after Nibali. The climb was tough, evne more so with the strong headwinds, which were the main reason why we didn't see a big selection into the GC group. When Nibali attack, the group was already at a high pace, and we profited from Andrey still riding near the front to keep the move at reach, so I could just follow the wheels calmly. It hasn't been just today, though, but the whole race up to this point: my team-mates have been excellent, and I can't thank them enough for taking care of me.
"Everyone is saying I'm the biggest favourite, but you must never rule the rest out; everyone seems to have really put on big work to reach the Giro in perfect condition, and all guys up there in the main group are talented people. Everyone looked pretty much equal on strength today. Nibali's attack was a good move and showed how much he wants to set the tone; then there's Sky, with Thomas and Landa doing really well and looking like men to beat. Zakarin is also one who showed his legs today; it wasn't easy to make any moves, even more so at the point he did. And Jungels: he really rode strong today and we must keep an eye on him."
Geraint Thomas (Team Sky)
"Today was good. Everyone was kind of watching each other and it didn't go completely crazy because of headwind towards the top. No one wanted to do too much, but I felt good and it was nice to get a few bonus seconds in the end. It's a good start. To be so close to pink – okay it would have been nice to have got it – but so far so good."
Tejay Van Garderen (BMC)
"It was quite good. A bit of a hectic lead in to the mountain but I felt good on the climb. The last part was a pretty stiff headwind so it was hard. You saw a couple of guys make some moves and not really go anywhere. Zakarin got away in the final but for the most part everyone just cancelled each other out. It's good to get some mountain legs in, just to test it but I think most of the action will come later on in the three weeks. The Giro d'Italia is really nice. I have to say, I'm really enjoying this Giro. It's just a different flavor, a different feel."
Tom Dumoulin (Team Sunweb)
"Today was a good day, the legs are good. The wind was a tough factor, but the team work was strong and I felt good on the climb. Overall it was a good day and I'm happy with 6th."
Wilco Kelderman (Team Sunweb)
"It was a good start to the uphill finishes at this years race. Before the climb Tom had a mechanical which caused stress but we were there with the whole team and everybody managed to fight through really well. On the last section we moved up and I tried to increase the tempo but there was a lot of headwind so it was quite hard to light things up. I felt really motivated to work for Tom today, as did the whole team. It was great communication between everyone so overall a good day."