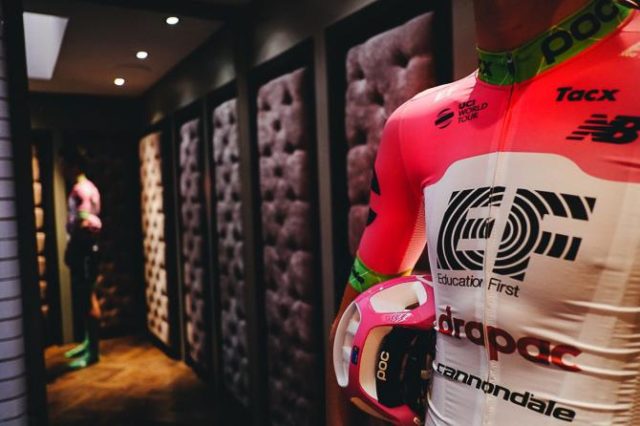 Slipstream Sports formally unveiled the 2018 Team EF Education First – Drapac p/b Cannondale kit at the Rouleur Classic in London on Friday afternoon.
Swedish road champion Kim Magnusson donned the race kit, created by apparel, eye and helmet partner POC.
The team will have parts of the characteristic green of Cannondale-Drapac, mixed with pink sections of the title partner EF Education First. New for the 2018 season is the distinctive pink of incoming title partner EF Education First.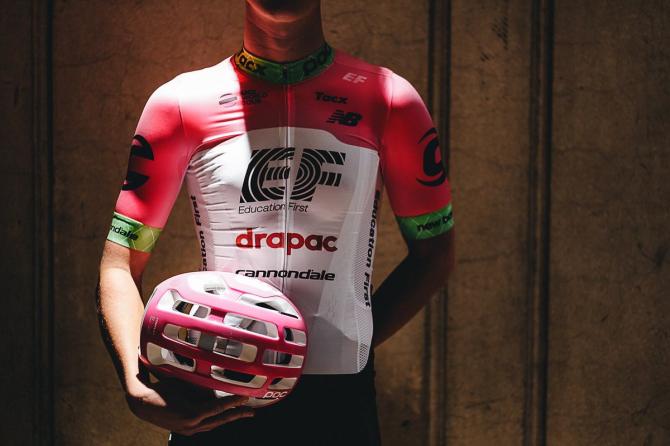 "When we began the kit design process with our team partners we started by studying the peloton," said EF Education First worldwide creative director Joel Hladecek. "It became clear pretty early on that we'd need to do something very bold to help the team cut through the visual clutter. Fortunately, EF has spent five decades opening the world through education, understanding and uniting people across borders and cultures, and giving them the tools to communicate."
"From a design perspective, we've learned a thing or two about capturing peoples' attention, no matter where they are in the world," Hladecek added. "It's one of the reasons we've come to use a shocking, disruptive pink as part of our brand. It's universally exciting and always demands attention. We decided to employ the strength of that color as a primary element in the design of the team kit. But as you can see there is a lot more going on in the new kit design than shocking pink."
"From the inception of the team, we've always tried to push the boundaries of design and color," said Slipstream Sports CEO and founder Jonathan Vaughters. "This kit is no exception. It is bold. But don't lose track of the subtle argyle we've included. It's been over a decade of argyle, and we are happy that will continue."
The race jersey features the characteristic two-tone paneling and the lines of POC. A white panel dominates the front of the jersey below a smaller pink panel. From the back of the jersey, the reverse holds true, with the pink panel commanding the majority of the real estate and enhancing the bold contrast for safety and visibility. Black shorts feature the Drapac, Cannondale, New Balance and POC logos.
"It was a pleasure to work with our new friends and the partnership group at Slipstream Sports, including Drapac, Cannondale and POC, whose teams each contributed valuable components to the final design, and together, really did something uncommon," said Hladecek. "Normally, the challenge when designing a kit like this is that you have many partners all vying for attention, each with their own design constraints and demands. I'm quite proud that this group came together and harmonized our brands in a way that make this kit feel considered and intentional. In some way I think our solution is what we would have done with complete freedom, and that says a lot."