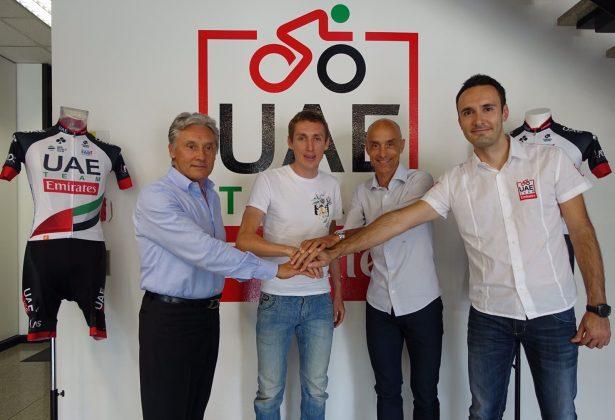 UAE Team Emirates announces that it has reached deals with the cyclists Daniel Martin and Rory Sutherland to count them among their ranks starting in the 2018 season.
Martin, who'll wear the Emirati formation's colours for the next two years, finished in the top 10 of the last two editions of the Tour de France and earned podium spots in this year's Paris-Nice and the Criterium du Dauphine.
"The opportunity to join an ambitious group backed by globally recognised brands and use my experience to create a team capable of challenging the best in the world was one that I couldn't refuse", said Martin.
"UAE Team Emirates share my vision, my attention to detail and my passion for the sport, and as I enter into the most important years of my career, they offer me the best platform possible to reach my potential and fulfil my sporting goals. To race with such a talented roster under the guidance of a highly motivated and experienced staff is incredibly exciting but I also realise this is more than a team as we work with our partners to not only promote the sport I love but a healthy lifestyle and two wheels on a global scale".
Sutherland, meanwhile, is one of the most experienced riders in the current peloton.
"This new challenge offers me the opportunity to work with my good friend Dan Martin while also helping the development of the younger generation of professional cyclists within the team" said Sutherland.
"I feel an immense sense of pride that the team management has the trust and belief that I can be an asset to the leaders of this team. I feel at this stage of my career my experience can be an important part of the future of the team and as I have progressed in my career I find it more rewarding to support my leaders and guide the younger riders".