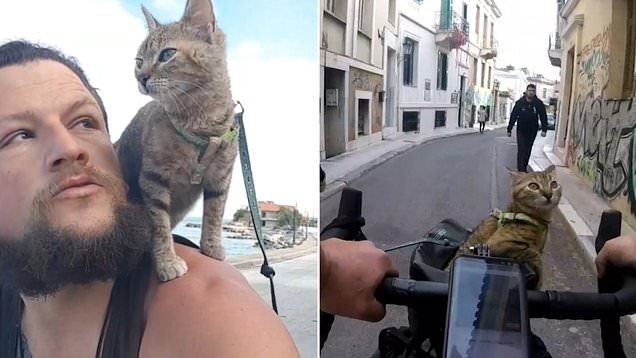 A Scottish traveller cycling around the world has found a new travelling companion – a tiny abandoned kitten.
Dean Nicholson, 31, began his journey in his hometown Dunbar and cycled through Belgium, Greece, Switzerland and Italy before getting on a ferry to Croatia and travelling on to Bosnia where he found his feline friend.
Realising that she was desperately hungry and had probably been dumped by her previous owner, Dean gave her some food and named her Nala.
Dean, who is currently in Santorini, Greece, said: "I was going up a steep hill with my music blaring out of my speaker when I heard a desperate meow from behind me.
"When I clocked the kitten, I got off my bike to stroke her then that was it, she wouldn't leave my side. She was a wee, scrappy little thing and so far away from anywhere.
"I wasn't going to take her with me at first, but I soon fell in love with her and I couldn't bring myself to leave her there alone.
"We've been inseparable now for the past four months. I named her Nala and got her a collar as well as a passport so she could travel with me."
Nala has since been travelling around with Dean on the front of his bike in a basket, and she generates quite a lot of attention – as her owner has proved in a selection of adorable videos filmed from the front of his bike.