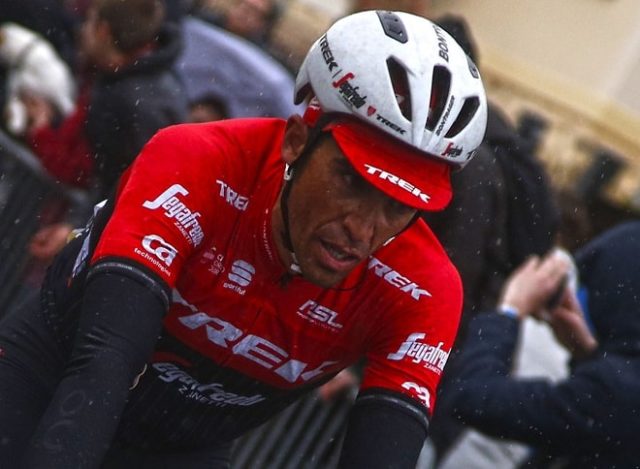 There was no doubt that today's opening stage of Paris-Nice was epic and exciting. It started out calm enough until around the 42-kilometer mark when crosswinds shattered the peloton, leaving echelons in its wake.  Alberto Contador was on the tail end of the leading group driven by Quick-Step Floors and Lotto Soudal but became disengaged in the ensuing corners from the blistery winds.
"This is Paris-Nice, and it's always a very hard race. Today was exciting; it had wind, danger, everything! The first days in Paris-Nice sometimes the difference can be larger than the mountain stages and time trial," exclaimed Alberto Contador after the finish.
"The team was good; in some moments, it was a crazy situation, and we were not all together," said Contador about the point when the race blew apart. "The only problem in the last part is that John and Jarlinson were caught up in the last crash and this was hard for me because I was fighting in the group all the time for a riding a good position. I spent a lot of energy and when Porte attacked I really felt my legs, and I could not follow him."
Richie Porte used the final climb to carve a few seconds off the front group's lead and pulled away from Contador, who crossed the line 17 seconds behind the BMC rider and nearly a minute to other rivals.
"Okay, I lost some time to some of the other favorites, but if you look at it the other way, I was also close to crashing three times and managed to save myself – this is also an important point," added Contador, addressing that the race could have gone in many different directions today.
"We lost Dege and Pantano with the crash, but they luckily didn't crash, and in the final, Alberto also lost some seconds to Porte," echoed DS Steven de Jongh. "It's a lot of time [lost] to some rivals, but tomorrow is another day like this. Paris-Nice is very difficult at the end of the last three stages, so still a lot can happen. Okay, it could have been better for us today, but we still have a lot to play."
"I think first of all we need to just look ahead to tomorrow and what can happen, and again after tomorrow, and then give the maximum in the time trial," said Contador. "Everyday can happen things in Paris-Nice. It's okay. Today was one day, and tomorrow will be another day."