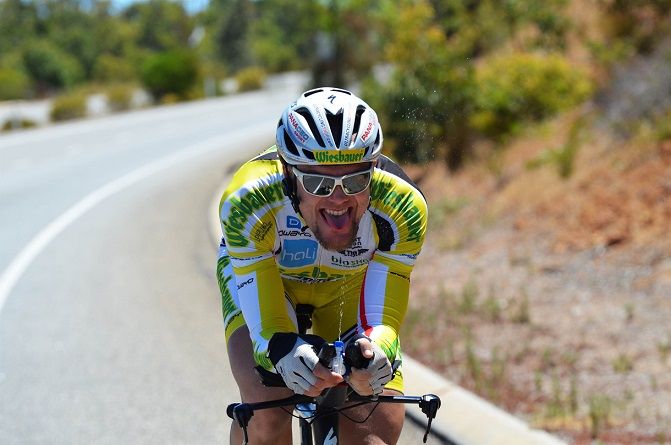 Ultra-cyclist Christoph Strasser has set a new record for cycling across Australia after riding six days 10 hours and 58 minutes from Perth to Sydney.
Strasser beat the previous record by the best part of a day. His compatriot Gerhard Gulewicz held the previous best time of seven days, 8 hours.
"This is an incredible success for me. The last week threw everything at me, especially the weather was challenging: ranges between 10 and 44 degrees Celcius, from heat to heavy rain and head to tailwind, it had everything", Strasser said.
"I was worried about the heat across the Nullabor and didn't expect the amount of rain at all. Unfortunately, I only had one rain outfit with me, so sometimes I had to borrow the jackets of my crew."
Strasser's eight-person support crew included a doctor, team manager, mechanics and media. In 3,950km, he suffered just one puncture, but faced extreme temperatures, strong winds and heavy rain.
He managed to take less than six hours of sleep during the record attempt, only taking his first break after 36 hours.
"The fact that I completed the trans-Australian crossing on such little sleep is another record achievement," he said. "I have a team that knows me inside-out and that has been working together so well for years. Again they were really able to motivate me and keep me going when the tiredness hit."
However, the Australian wildlife kept him alert, with Kangaroos and curious Emus making their presence felt on several occasions.
"Otherwise, I saw a lot of roadkill alongside the course and some cockroaches were making life hell for the support crew in the camper van", he said.