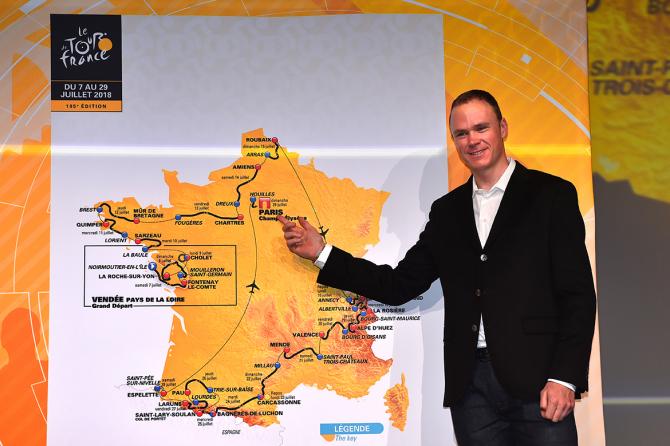 (AFP) – Four-time champion Chris Froome insisted Wednesday that he will compete in this year's Tour de France despite the controversy over an adverse drug test.
Froome was found to have twice the permissible amount of asthma drug Salbutamol in his system during September's Vuelta a Espana, which he won, before also winning Giro d'Italia, becoming the first man to hold all three Grand Tours at once since French legend Bernard Hinault in 1983.
Hinault has emerged as one of Froome's biggest critics and has called for the peloton in the Tour de France to strike if the British rider lines up at the start of this year's event next week.
Froome has denied any wrongdoing and an investigation has been ongoing since last September.
On Wednesday, Froome told Sky Sports News that he will be at the start line a week on Saturday when he launches his bid to win the Tour for a fifth time.
"Definitely. I have done nothing wrong here. I have every right to be racing," he said. "Through this process, I am allowed to demonstrate that I have done nothing wrong and I am fully expecting to be exonerated by the end of this process."
Hinault has described Froome as a "cheat", a claim which infuriated Team Sky who described the Frenchman's remarks "as irresponsible and ill-informed".
"Chris has not had a positive test, rather an adverse analytical finding for a prescribed asthma medication," said the team last week.
Froome insisted that he had no fears over what kind of reception awaits him in France.
"Over the years, we have always had a small crowd who aren't happy to see us, for whatever reason.
"We have always come up against adversity over the years. That is something you deal with in the moment. Hopefully that doesn't interfere with the race."
Hinault launched a fresh assault on Froome on Wednesday, claiming that the rider has enjoyed an impunity which has lasted "too long" and that the case harmed cycling.
"Is it a good image for cycling? In the junior races today, they all have Ventolin (Salbutamol) while they're not sick," said Hinault.