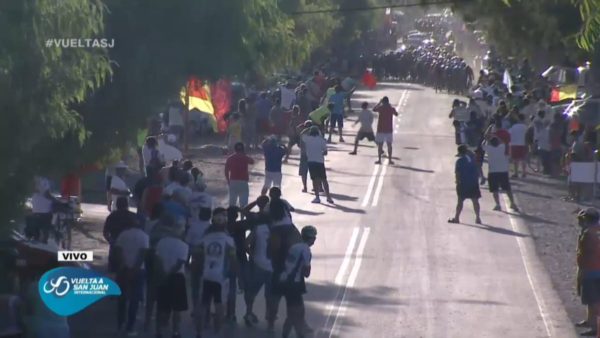 The finale of stage 4 was chaotic once again in Vuelta a San Juan as a lead-out sprinter for Elia Viviani suddenly left the road for no apparent reason and crashed.
In the final meters, spectators got out of the way only at the very last moment to avoid further and potentially more serious incidents.
If that wasn't bad enough, one of the Quick-Step Floors riders hit the front in the latter stages with his head down performing lead-out duties, only to lose his sense of direction and rocket off the side of the road.
On stage 1 a section of the bunch took a wrong turn at the very end. They veered right down a road parallel to the finishing straight. They were forced to run across grass and up onto the finishing straight, climbing out from the crowd right on the finish line.
#VueltaSJ Gaviria, Viviani, Ruffoni and some spectators who haven't read their Green Cross Code pic.twitter.com/obzhUYvVXo

— Cyclepieces (@motorcycleMTNS) 26 ianuarie 2017