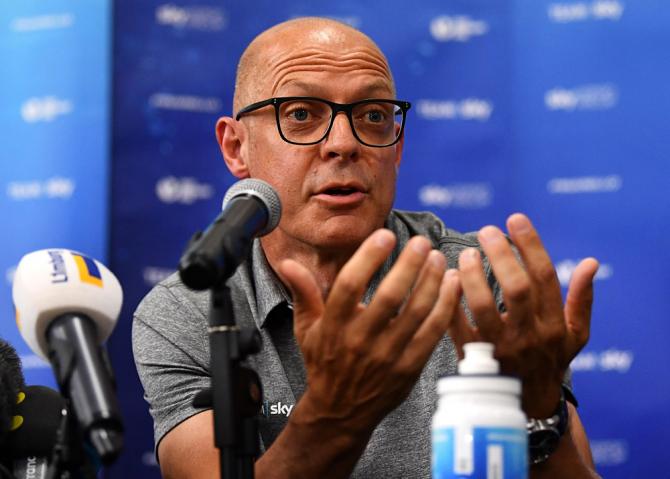 (AFP) – Team Sky chief Dave Brailsford hit out at organisers on Monday for failing to stop "intimidating" abuse of his riders and staff as they attempt to win the Tour de France.
With Geraint Thomas in the yellow jersey and four-time champion Chris Froome in second place at 1min 39sec, Sky are in an optimal position as they head into the Pyrenees for three consecutive stages starting Tuesday.
But the British outfit's bid to win the French race for the sixth time in seven years is not sitting well with some fans.
Amid a general feeling of suspicion surrounding Sky and their sheer domination of the race, Froome has been spat at and manhandled, Thomas has been booed off the podium and some of Sky's staff have also faced abuse during the opening 15 stages.
Brailsford said he did not expect the abuse to stop. But he claimed the organisers' inability to step in and take effective measures against the haters had compromised the race's billing as the "the world's greatest annual sporting event".
"The Tour de France is promoted as the world's greatest annual sporting event. If that's the case, then maybe treat it with a bit more respect," Brailsford said.
"If you don't want international teams to come, you can have a Tour de France for French teams. That's the way I see it really."
He added: "We're trying to remain dignified, we're trying to not get distracted by it. I don't think spitting and throwing things really has a base in professional sport, nor in everyday life."
Other teams and riders are also concerned about security.
"We are at a point where a part of cycling's future is at stake," said Romain Bardet. Riders on the Tour "don't really feel safe", added Bardet.
Most of the bad behaviour from a small minority of spectators has targeted Sky, who started the race under a cloud, and are looking hard to beat.
Froome was initially barred from starting his title defence by organisers because of the suspicion surrounding his "adverse analytical finding" for the asthma drug salbutamol at the Vuelta last year.
Yet days before the Tour, the International Cycling Union (UCI) cleared Froome to race.
Brailsford said: "Chris's case was open when we raced in Italy. And they were fantastic, the Italians (fans). It seems to be the thing that's done here. It just seems to be a French thing. A French cultural thing really."
He added: "I'm not sure they would like to have seen their (France) football players being spat at (the World Cup) in Russia. I'm sure there would have been a word or two about that. But it's okay to spit at us and our staff? It's very, very intimidating."
Vincent Lavenu, the head of AG2R La Mondiale, took issue with those fans who target Sky just because they have dominated the Tour.
"Sky are dominant, that's a fact. Like Usain Bolt in athletics, or Rafa Nadal at the French Open tennis. But in those two cases, we didn't get this kind of aggression."