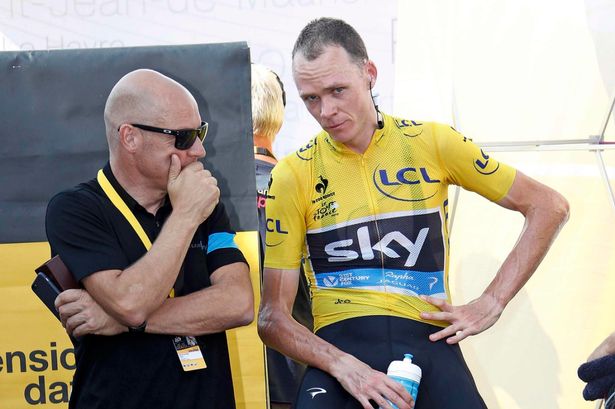 Dave Brailsford has spoken for the first time about the anti-doping case currently hanging over Chris Froome and said he believes the four-times Tour de France winner is "innocent".
"For me, there's no question, he's done nothing wrong – no question, no question, no question," Brailsford said.
"This situation, it's difficult. I'd be crazy if I didn't say it was difficult. We want the UCI to lead the sport, we've got the WADA rules, then obviously we've got the team and the individual, and my role is to look after the team and the individual, but also I've got to think about the sport in general. But I believe he's innocent.
"It should still be confidential – it should never have been made public at this point – and everyone is entitled to a fair process. That's why I think, at the minute, the approach we've taken is to support him and make sure we do what we can to have a fair process, even though I do understand it's a very difficult situation for everyone."
"We've looked at it from the angle of the rider's point of view, from the team's point of view, from other teams' point of view, from the fans' point of view, from the organisers' point of view, and it's difficult for everyone. But, I believe in fairness, and I do believe that in this instance Chris has done nothing wrong and I think he should be given the opportunity to demonstrate that," said Brailsford.
"The UCI have the rules and we're abiding by the rules. They've decided how these situations should be managed. And while there's a fair amount of discussion about this, we feel, on balance – on balance because there is good reason for a lot of discussion here, it's not an easy one – but on balance I think it's the right thing to do. For Chris to continue, and us to work in the background to support him and demonstrate there's been no wrongdoing."