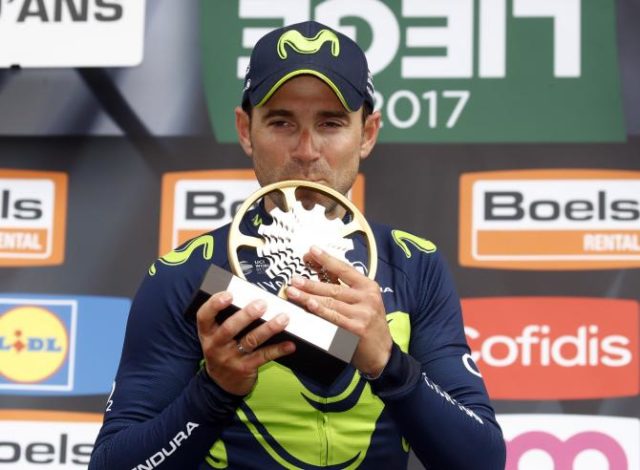 The Movistar rider already has big plans for the season.
"It's very difficult, but I would like to win a fifth Liege-Bastogne-Liege next season, more than winning Amstel Gold for the first time," Valverde says. "A fifth Liege would make the same number of wins as Eddy".
"We all know what has happened to me and I don't feel tired, or weary, neither in my head nor in my body. I don't feel like I'm 37, I feel ten years younger,".
"I've done about 6,000 kilometres in training. My idea was, once I started training, to reach as good a form as I possibly could and that's what I've done. I feel as if I started racing, I would be close to fighting for a win.
"But now I'm going to rest, take a break as if I had raced, so I'll take seven or eight days off to come back from zero and begin the new season."
"When I had a break I'd leave the [surgical] 'boot' I was using strapped onto the bike. And so it went on, little by little. It was all a question of little by little, with the knee and the ankle slowly improving.
"But now I can train, sprint, I've got the same power output as before, so it's going very well. My injured leg is weaker than the other, but with the winter ahead, I'll work out in the gym to be at 100 percent."
"If you'd asked me six weeks ago, I'd have said I wasn't sure if I could be the same. But now I'm doing 700 kilometres a week, pushing myself hard and the next day I feel good. That's a sign I'm doing well."
"I don't know if my first win will be in January, February, March or April. I don't want to sound boastful, but I don't think it'll be long coming."
"I could do Giro-Tour, Tour-Vuelta or Giro-Vuelta. From my point of view, I don't mind. Although I like the Tour route, I have to say."