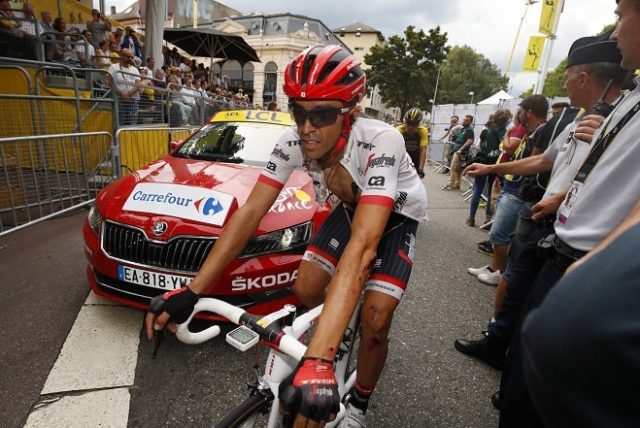 It's the Tour de France and every year there's at least one epic stage to grab headlines. Sunday's stage nine may have claimed that rank, at least thus far, for this year's race.
While Geraint Thomas (Sky) and Richie Porte (BMC) endured the worst of numerous crashes during the 181-kilometer race, landing in the hospital and ending their Tours, Alberto Contador also found himself on the tarmac twice.
Although Contador was not seriously hurt and managed his way back into the rivals group both times, his optimism took a blow. On the last climb, Contador struggled, and he was unable to hold the pace of the rivals group.
"Today has not been a good day," said Contador. "Majka fell right in front of me, and I could not avoid him. At that moment, I felt a little powerless, but I tried to recover until Nairo (Quintana) hooked with my bike and I was again thrown to the ground. Although, that in the end, was not as bad.
"In fact, we went into the break with Bauke and Jarlinson thinking about a possible attack, since yesterday I was restraining myself not to attack, but in the end, it turned out the opposite.
"It is secondary to say what is hurting me the most; simply the legs have not been as I would have liked and that's all. Mollema was a great help today. Now we have to think first of all about where I stand, and then, based on that, rethink the race."