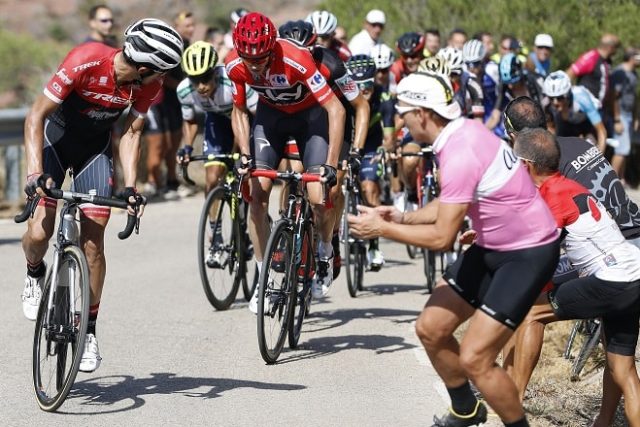 Expect the unexpected when Contador is on his game. A few kilometers from the top of the last category-two climb the fireworks were lit in the sixth stage, and the highly anticipated Contador carnival had begun at last. 
"It was a very demanding stage that didn't leave us with one moment to breathe, so for me it looked like the perfect stage to try to take some competitors out of GC,"  explained Contador.
Contador continued to press the accelerator to the top of the climb while many rivals, caught off-guard, scrambled behind. Contador soon caught up to Pantano who took over the pacing, with race leader Chris Froome (Sky) and Jan Polanc (UAE) initially the only ones to mark the canny move.
"I knew that even if some riders came with me, it could be interesting," continued Contador. "To be honest, I thought there would be more of a fight. Some teams were really in the advantage to take some time on some other riders – they had 2 or 3 riders with their leader in the group. And yeah, maybe later on in the race they won't have that opportunity anymore and might regret that they didn't take it now."
With a hefty 38 kilometers remaining and not much help from his companions, most of the rivals behind had enough time to regroup and organize a chase. The numbers swelled again to a sizeable group and, while the carnage at first was considerable, in the end, the damage was minimal.
"I wanted to do the climbs in a high pace because I knew some of the rivals would have to pay for that. I was not mad at Froome, I just analyzed the race situation and noticed that he didn't put any effort to take time on any of the other riders behind. If there had been more collaboration, I am sure we could have made bigger differences, but of course, everybody defines his own race goals and has his own race tactics," explained Contador. "The important thing is that it has been a beautiful stage and that there are still a lot of those ahead of us."