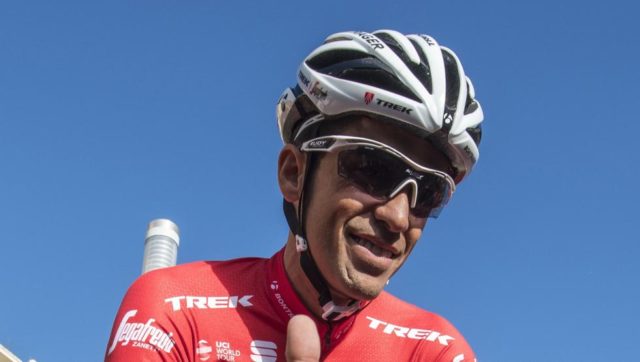 Alberto Contador spoke to the press on the first rest day of the Vuelta a España. 
"I think we can split the Vuelta until now are in two distinct parts. The first part absolutely wasn't part of the plan, especially given how good I felt coming into the Vuelta, when I was training in Madrid. The other part is, I think my performance has been at a very, very high level, on stage finishes that haven't really suited me. That makes me optimistic about the rest of the Vuelta. I think I'm in pretty good form, and we'll see what I can do."
"I think battling for a stage win and the GC are compatible. I don't want to discard either of them. We'll see as the race progresses day by day. I don't want to rule out either option. To tell the truth, I'm really enjoying my racing, and I'm happy because perhaps a lot of people may have thought I was only coming to the Vuelta a España to say goodbye, or through a sense of duty, but it's not like that.
"I'm here at the Vuelta a España after training like a professional beforehand, the way I have always done before races, and we'll see how far I can go. The podium is going to be very hard: there are plenty of riders ahead of me who have gained a lot of time. But it's also true, on the other side of the scales, that there is still virtually the whole Vuelta left for me to win back time.
"In principle, in theory, the climbs that lie ahead of us should be better for me, no? But, look, I think, first of all, I'd have to pass all the riders who are ahead of me, and there are a lot of them. It's true that, every day except yesterday, I've made up time on all my rivals. So that's good. And I think that, in the time trial, I can do pretty will compared with most of them too. So it's a matter of trying to get as close as possible and into the best possible position with respect to Froome.
"You have to remember that cycling is a very hard sport, and there are always lots of factors involved: it's about your ability to recover, but you can also catch a cold or suffer a mechanical problem, or fall in the rain. For example, you can suffer in the cold after a week riding in the rain up in Asturias. You can have a bad day and lose a lot of time."
"Obviously all these scenarios are very unlikely because Froome is a very strong rider, he's very solid, but until you get to Madrid, you never know. So what do I do? I'll take it day by day, trying to win back time, bit by bit, and in Madrid we'll see where I can finish. Cycling is a sport where a thousand factors can affect the result. It doesn't just depend on you."
"Given that it's my last race, I'm trying really to enjoy it. I'm savoring it. It's turning into an incredible Vuelta for me. I knew it was going to be a special Vuelta, and it was a good decision to say goodbye here, but I'm more and more certain that there is no better place that this to do so."
"My team-mates say they are getting headaches from so many people calling out to me to ask me not to retire and to ride for another year (laughs), but really it makes me happy to know the public really appreciate me. What I am only realizing now, bit by bit, is what I have achieved over the years. Until now, I've only ever focused on this race, the next race, and the one after that. I've never stopped to think about this or that race, or moments I've lived through. Perhaps now, in the race, with all this public affection, you start thinking about what your sporting career has amounted to: the sheer quantity of video footage that is around, to remind you of many of the most important moments of your career. And the truth is, it makes you proud. I'm really amazed by all the displays of gratitude around the bus. My team-mates are immensely surprised too, because there isn't space to insert a sheet of paper around the bus, and it is a memory that will always stay with me."
"No, I have no fear of what's coming next, and it's something I may have given more respect to before, but now, no. We've done a lot of work on the Foundation, we have two branches: the best known one is the cycling branch, the schools, the juniors and the Under-23s. And now, with this jump we are going to make with the Continental team: that part of the Foundation is going to take up some of my time.
And then the other branch, which is less well known, that works with stroke victims, an illness I have learned about that so many people suffer from, if not themselves, then family members, at conferences and with agreements that we have signed, I'm going to have a fairly full agenda, obviously not as full as it is now, because I don't want to have so much responsibility, tension or stress, but it is going to keep me fairly well busy."
"The memories that really stand out are the stages I won through long-distance attacks, more than memories of standing on the podium. Above all, attacks like Verbiers, Fuente De, the Télégraph. Those are the days that I really remember. The final podiums aren't moments that I particularly remember."