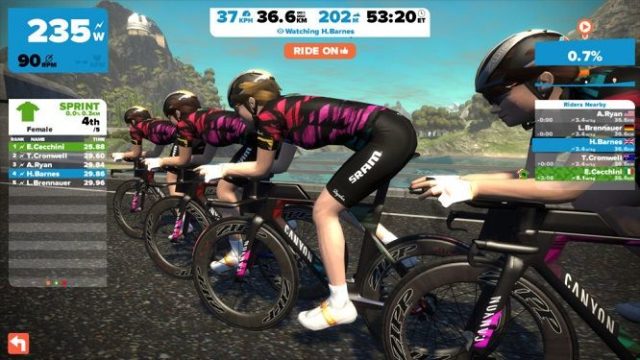 Canyon-SRAM has announced the winner of its novel approach to talent identification, the Zwift Academy. American Leah Thorvilson has been awarded a pro contract with the Canyon-SRAM cycling team.
Over 1200 women signed up to the first stage of the process and all of them benefited from completing structured training sessions via the online platform. Eventually, testing whittled the riders down to just twelve, then three.
The three semi-finalists – Jessie Donovan, Leah Thorvilson, and Yvonne van Hattum – spent the last week in Majorca with the team and today it was announced that Leah Thorvilson will join the squad for 2017.
"It's been an incredible journey and a totally surreal experience," said Thorvilson. "Prior to Zwift Academy, I never would have guessed this was possible. [Finalists] Jessie and Yvonne are tremendous athletes whom I now consider close friends. I'm so grateful for the opportunity, and I can't wait to begin this next chapter with the Canyon-SRAM racing team."
Thorvilson, 37, is a former US Olympic Marathon Trials runner who fell in love with cycling only a year ago after injuries prevented her from running.
"I was told [in 2015] that I might not ever be able to run again, so for sanity's sake, I begrudgingly bought a bike. I never expected to enjoy cycling. I was terrified of it. One ride in, July 2, 2015, and I was hooked," she told Zwift. "I have logged nearly 12,000 miles since and loved every bit of it."
The team director Ronny Lauke said that despite taking the chance with Zwift, the team was pleased to add a rider who they say a lot of potential in. "It makes one wonder how many more are overlooked," Lauke said.
Zwift, Canyon-SRAM, and Canyon confirmed that the Zwift Academy will return in 2017.